With decades of experience across the entire Turn of the Century team we pride ourselves on the services that we provide. We deliver high quality custom furniture and millwork to clients across the lower mainland, with clients in West Vancouver, North Vancouver, Downtown Vancouver, all the way out to White Rock.
FREE in-home consultation
There are two types of clients: those who have a clear picture of what they want in a space, and those who don't. We work well with both.
For those of you out there who know what you want, with material samples, design ideas, and a firm grasp of what you need, we're happy to take that and create your picture-perfect custom furniture or millwork solution.
For our clients who just know they need *something* and who are looking for design inspiration, we're here to help! We'll evaluate your space, looking at the size and shape of it, as well as taking your current style preferences into account. We'll show you some options that will fit, helping you to select colours, materials, and styles that will make your space pop, and make each piece the very best that it can be!
We do all of this with a FREE in-home consultation. We've always found that we have the best results when we can speak with you in person, see the site on-hand, and get a feel for the space. We'll come to you when and where you want, doing an overview, measuring up, and getting the details that we need to help create the Turn of the Century custom furniture or millwork that we know you'll love!
3D drawings the you can understand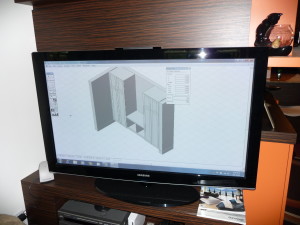 Across the industry we're known for our precision and the care we take with each piece that we craft. One of the reasons for that is that we create a detailed 3D drawing for every installation and every custom furniture piece that we build.
3D drawings are a wonderful way to get an idea of what your new piece is going to look like; we'll walk you through the design step-by-step, and we'll show you how your new custom furniture or millwork will come to life.
Our 3D drawings are easy to understand, and we're happy to give you a copy to keep when the job is complete!
The confidence that you'll get what you ordered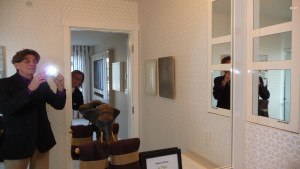 We pride ourselves on delivering what we promise, executing on every order with precision and accuracy. When you approve a 3D drawing, we'll get to work creating that custom furniture or millwork piece. When it's ready we'll join you on-site to deliver or install it. Only when you're satisfied do we consider the job complete.
There when and where you need us!
We know that Monday-Friday 9-5 is a great time to be at work, which means it can be a hard time to get home to meet with us about the amazing new furniture piece you want to create. That's why we make ourselves available after regular working hours and on weekends. We're passionate about what we do, as so we'll work with your schedule to meet with you on your time!
Welcome to our shop
Our design lab is located centrally in New Westminster, accessible by SkyTrain, and with parking for those who drive. We'd like to invite you to visit us at our space, to see how we work and to meet us in person. We have a wide range of materials on-hand for you to see, including solid natural wood, natural and manufactured veneers, and other material types!